Top Places to Visit in London this Summer!
London is a special place to be during the summer months, the city comes alive with festivals, flowers, and films under the stars. So we have put together our recommendations for what we believe are the best activities you can join in with to make this summer one to remember. 
Sure to be appearing on Instagram feeds everywhere throughout the summer is the picturesque Mayfield Lavender Farm, a family ran farm located in Banstead just an hours train outside of central London. Escape the hustle and bustle of the big city life to frolic through a sea of beautiful organic lavender stretching as far as the eye can see, also providing a delightful smell.
Once you have finished prancing through the meadows head over to the on-site cafe and shop and grab a bite to eat whilst looking over the farm. Learn how they farm the lavender and discover the secrets as to the many things you can make with this beautiful little flower. Be it scented candles, face masks, ice cream or even alcoholic beverages!
When to visit?
The lavender starts to bloom from the month of June onwards. Peak months being July and August with weekends getting very busy make sure you plan ahead to avoid the crowds. The farm is officially open from  June 1st to September 1st, 2019.  They are open 7 days per week from 9 am to 6 pm (Last entry for cars is 5.45pm).    Entrance costs £2.50 per adult.  Children 16 and under are free.
How to get there?
There are a number of options for how to get to the farm:
By Car: You can plan your journey using Google Maps or a Sat nav using the SM7 3JA postcode.
By Public transport: There are several options to get to us easily.
1. Train from London Victoria to West Croydon and then take the 166 bus to our gate (this way can get busy when it is peak season)
2. Train from London Victoria to Sutton and take the S1 bus to Banstead (Woolpack stop) and then the 166 gate to our gate (slightly faster route)
3. Train from London Victoria to Purley Station, cross the road to the large Tesco and take the 166 bus to Oaks Park from the front of the store (top tip from a regular customer)
4. Take a train from London Victoria to Sutton or Cheam and take a cab/minicab to the farm

Perfect for a lazy Sunday stroll. This is the second biggest Conservatory in the London area creating a hidden oasis in the heart of the city. The Barbican Conservatory is home to around 2,000 different types of tropical plants and trees. Along with some weird and wonderful fish. Making it feel like you could be strolling around the Amazon not central London.
With a number of tours available, you can learn all about the different plants that are grown in the conservatory. The tours are led by the resident gardener who can give you an insight into how the conservatory. Learn about and how they maintain such a wide selection of different plants, as well as a brief insight of each flower or plant they own. 
Enjoy a unique afternoon tea with a delectable selection of handmade cakes and savouries. Each inspired by a flower or herb grown in the conservatory.
You can also enjoy a one of a kind afternoon tea among the rainforest, with a selection of homemade cakes. Which have been inspired by the plants and herbs grown in the conservatory washed down with a lovely cup of tea. If your extra lucky with the timing of your visit you can also experience one of the Barbican Session of live music that takes place in this wonderful venue. 
The Conservatory is open on selected Sundays each month and Bank Holidays from 12 noon–5pm with last entry at 4.30pm. Admission is free, no booking required.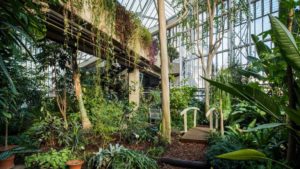 Camden
Camden is one of London's most popular and vibrant areas and we can see why. Located just north of Central London, it is filled with the unusual. The first thing you'll notice is the artistic expression on the walls, fancy stalls, and shops, you can really feel how this area got nicknamed the 'punky part of town'. 
However, Camden is most famous for its markets. Camden Market is made up of over 1,000 unique shops and stalls, selling everything from vintage clothing to vinyl records. It also boasts many unusual dining and leisure experiences, having stalls selling 'Yorkshire Burritos', a quintessentially British roast, in a burrito to fluffy Dutch pancakes.
Camden is a very unusual place, however, one with we cannot recommend enough to visit to escape the crazy city life of the UK capital. It is open everyday '10 am-LATE' and is very accessible with 'Camden Town' tube stop and the 214, 24, 274 and 393 buses all stopping in Camden!
Camden Market, Camden Lock Place, London NW1 8AF
Fancy enjoying some live Jazz music over a couple of glasses of wine and a delicious pizza? Yes? Then do we have the perfect place for you!
The Pizza Express Jazz Club, set in the highly regarded Soho entertainment district with live music 7 days a week presenting world-class musicians in an intimate basement setting! With a whole host of awards won this venue is famous throughout the London jazz scene. Some huge names such as Amy Winehouse, Norah Jones, Benny Carter, and Rick Wakeman all performing here in the past.
Winning 'Venue of the Year' in both 2015 & 2016 at the London Lifestyle Awards and also named by Downbeat as one of the world's great jazz clubs.