Where to Stay in London
Finding somewhere to stay in London can be a daunting task. With so much to see and do in the city you want to base yourself in the perfect location so no precious time is wasted getting around the city. So we have put together a guide on where we believe you should stay dependant on what type of London Weekend Break you are looking for. 
Russell Square
If it's your first time in London and your after visiting all the best sights and shopping spots in London then Russel Square is the perfect place for you to stay.
Just an eight minute drive from all Big Ben and Westminster Abbey. Take the scenic twenty five minute walk to the River Thames via the ever popular Covent Garden, full of live street artists and trendy boutique shops and restaurants. Head north to the quirky Camden district, famous for it's weird and wonderful markets, take the tube or go for a walk through Regent Park. 
Russel Square also boasts great infrastructure for transport making your stay in this area even easier, buy an Oyster Card and jump on one of the many tube stations on your doorstep. With it being one stop from Euston if you are travelling to London by train then the first leg of your trip is an easy one.
Which Hotel to Pick?
The Imperial Hotel 
Perfectly located in the Bloomsbury District of Central London and just a 15 minute walk from Euston, St Pancras & King Cross all major stations in the city. The perfect base for exploring the city's major tourist spots as well as being a stones throw from the West End Theatres.
Each room in the hotel comes with free wifi, an en-suite bathroom and tea and coffee making facilities to wake you up in the morning. Offering views over Russell Square's lovely gardens and old historic Georgian Houses it's the perfect place to unwind after a day of sightseeing in the city. 
If you fancy a night cap before bed then head down to the hotels very own bar the Atrium Lounge before bed where you can relax to the sound of the in house Jazz pianist over the weekend. Grab a bite to eat in the number of restaurants around the hotel or order room service if you are feeling extra lazy. You can even treat yourself to a new haircut at the on site hair salon.
Prices starting  from £149.95 pp for two nights staying in December – Click here for more info
Canary Wharf is located right on the River Thames and is the perfect spot for stunning views over the city as well as easy access to the O2 Arena home to some of the best concerts and events in London.
This modern chic business district is home to a number of great hotels providing an escape from hustle and bustle of rush hour in the city. Transport links are highly efficient around here too with a number of tube and buses on offer running to all parts of the city. 
Which Hotel to Pick?
One of the first hotels in Canary Wharf, The International Hotel is set on the waters edge and boasts incredible views of London's Skyline and the River Thames from the higher floors. Jubilee Line 
Take in the views of the city while enjoying comfort in your spacious room with high speed wifi and en suit bathroom. Enjoy the best start to your day with a full english breakfast and a free fruit buffet to energise you for a day of sightseeing. Jump on the Jubilee line or take a walk down the river to all your favourite spots.
This is the perfect spot for anyone planning on enjoying a concert or event at the famous 02 arena. London Weekend Breaks have some great value packages for you to take advantage of seeing some of the very best live performances in the city.
Plunge into the indoor pool for a few lengths and then relax in the sauna the perfect way escape from the busy city lifestyle. End the night at the ambient bar which regularly shows live sports and allows you to have a relaxed drink whilst taking in the city lights of the tall high rise buildings.
Book 4 nights starting from £219.95 pp – Click here for more details and to book today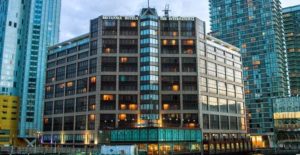 Bloomsbury
Located just walking distance from London Euston station this area of London is perfect for visitors travelling by train to the city. Bloomsbury is a quaint area with a great location for access to the city, with busy tube stations and some of the most popular highlights of London and some great bars and restaurants.
With tonnes of history, Bloomsbury is the capital of educational institutes in the UK. Museums can be found on every corner coupled up with libraries, publishing houses and universities brings in a varied crowd adding to the lovely atmosphere. 
Despite its central location, Bloomsbury is home to some of the most beautiful parks and gardens in the whole of London. It's well known for it's truly picturesque foliage filled squares – a welcome distraction in an otherwise blurry backdrop of industrial grey. Perhaps the most famous square in Bloomsbury is Russell Square.
Which Hotel to Pick?
A unique and lively hotel with unparalleled facilities and direct London Underground link with Heathrow Airport. The Royal National offers a variety of drinking and dining options including a pizzeria, carvary, pub, bar and a coffee shop.
Ideally located in the Bloomsbury District of Central London within 300 yards from Russell Square Tube Station on the Piccadilly Line. The hotel is around 10-15 minutes walk from Euston, St Pancras & Kings Cross Railway Stations.
The British Museum is less than five minutes walk away whilst Covent Garden, London's West End Theatre land and Oxford Street shopping are just 10-15 minutes stroll from the hotel.

Kensington
On the boarder the beautiful Hyde Park is the up market area of Kensington, home to many tourist attractions such as the Natural History Museum, Royal Albert Hall and Kensington Palace. 
It's a great spot for shoppers with loads of chic boutique stores found on Kensington High Street or a number of antique stores on Kensington Church Street to keep you busy if you fancy some retail therapy. Or if you are on more of an educational trip visit the well known museum district of South Kensington. 
Location wise you can access all the main spots the city has to offer, Big Ben is within walking distance taking only 15 minutes through the grassy paths of Hyde Park. From here you can see Westminster and everything around the River Thames such as the Shard and London City Aquarium. 
Which Hotel to Pick?
Hilton London Olympia is a favourite with customers coming to London thanks to its warm and relaxing atmosphere and rooms with flat screen TVs, wifi and tea and coffee facilities. 
It's located on Kensington High Street just a short walk away from Olympia Exhibition Centre and close by Kensington Olympia Station. A great spot for anyone visiting the Royal Albert Hall for a music concert and again for anyone who's looking to visit the main tourist attractions in the city. 
The hotel has an onsite fitness centre, bar, restaurant and Costa Coffee to keep you happy during the evenings and morning.